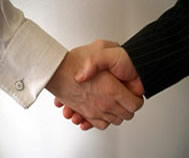 Vested Security Solutions, LLC offers services that span a wide range of creative and unique professional responses to a host of security lapses. In today's ultra-modern, Internet-driven society, Vested Security Solutions offers mitigation strategies and risk management for physical property and intellectual property alike. As such, Vested is honored to offer an array of security-related services to clients at extremely professional rates. These services and support are emblematic of our vast experience and technical knowledge base.
The support that is available exclusively through Vested Security is constantly growing. Quarterly, Vested's team of talented and skilled professionals is adding to the already affordable assortment of services by identifying new, creative patches for security lapses in every conceivable area. At Vested, the term security does not simply refer to surveillance cameras or spotlights. Today's burgeoning markets demand security for so much more than just the obvious. Accordingly, Vested Security Solutions focuses on the tenuous aspects of technology and infrastructure, delivering a full range of solutions for individuals, businesses, schools, and government institutions. The following services are currently available from Vested Security:
Available Services (More Descriptions Coming Soon)
Data Recovery
Home Security Evaluation
Online Data Backup Solution
School Security Survey
Secure Network Installation
To schedule a service, please e-mail a representative at

.