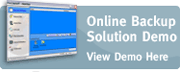 Online Data Backup Solution
Vested Security Solutions, LLC, through a unique relationship with Intronis™ Technologies , is proud to offer clients an Online Data Backup Solution, which allows you to backup your valuable computer data over the Internet. The Online Backup Solution automates the process of backing up your data offsite. Backups begin automatically and your data is sent to and stored in two redundant storage facilities located hundreds of miles apart. Your data is encrypted, and always remains encrypted using a unique 256 bit encryption key that only you have. Moreover, with this data backup solution, you can restore your files as often as you need to and at any time day or night, in as easy as a few clicks of your mouse.
Why do I need to backup my data?
Whether your computers store data for your business such as customer records or personal data such as digital pictures of your family, data protection from the unexpected is vital. You data is vulnerable to viruses and spyware, hard drive and other hardware failure, fires, floods and other natural disasters, human error, hackers and theft, to name a few.
But I already backup my data, why should I use an online backup service?
No question - any data backup solution is better than no backups at all. However, online backup for data protection has significant advantages over traditional methods such as tapes, CDs and removable hard drives. Traditional methods of backup include tapes, CDs and DVDs, ZIP drives and floppies. All of these methods have significant disadvantages. Backups are generally not automatic and even more importantly, someone has to physically transfer the media offsite where it must be stored in a safe place.
OK, online backup sounds good, but how does it really work?
Once you set up your backups, they run automatically. Your files are compressed and encrypted. They are then sent to two redundant storage facilities for secure offsite data backup management, where they wait for you to restore them if the need arises.
What else does the online backup offer me?
The Online Backup Solution contains many impressive features that not only make the process of backing up easy and safe, but also let you manage what to backup and how much data to store.
For further information, pricing plans or to purchase an Online Backup Solution, please visit http://www.intronis.com/vested to receive a Vested Security Solutions preferred client discount.