School Violence: Learning the Warning Signs
This program has been one of the most relevant topics of 2006. Presented by Vested Security's own staff who have gained valuable, first-hand experience as law enforcement officials deployed in public and private school settings, the School Violence lecture is much more than a contemporary topic for school systems around the United States…it is a necessary topic for any educator who works in a classroom.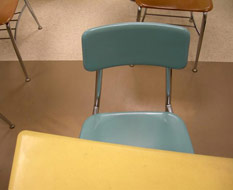 Like all Vested Security lectures, School Violence features an interactive, in-depth, and graphic PowerPoint presentation. The goal of this lecture is to orientate school employees with the concepts of school security, and then discuss ways to implement a sound security strategy. Finally, the lecture will highlight the relevant legislation related to school safety and security. Vested Security Solutions has been honored to present this lecture to school systems as part of their ongoing in-service series for faculty, staff, and administrators.
In addition to our powerful awareness lecture, Vested also proffers a School Security Survey for public and private institutions. This service is an important and helpful addition for every school campus—small or large. The School Violence lecture will address theory and strategy for staying safe; the School Security Survey will translate into a necessary, effective litmus for identifying weaknesses and encouraging vital changes. Please see the School Security Survey for more information about this service.

Vested Security Solutions, LLC is proud to deliver this awareness lecture and vivid presentation at your venue. Every seminar, program, and lecture provided by Vested Security can be custom tailored to impact your target audience in a meaningful and specific way. As such, each program has a different fee structure, which fluctuates due to variables and host-specific configurations. Nonetheless, Vested Security Solutions keeps professional fees reasonable, without sacrificing the quality or excellence of our service and presentation. Finally, some funding sources may be available in New Jersey for school systems and government institutions.

To schedule a session, please e-mail a representative at

.